November 28, 2011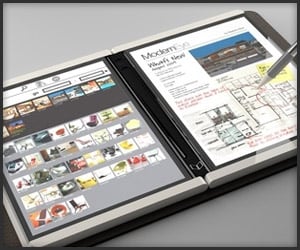 Earlier this month at CNET, Jay Greene wrote a wonderful two-part story about how Microsoft killed the Courier project. Arguably the most fascinating paragraph describes a meeting in which Bill Gates, judging the device's prospects, questions its champion J Allard about Courier's e-mail capabilities:
"At one point during that meeting in early 2010 at Gates' waterfront offices in Kirkland, Wash., Gates asked Allard how users get e-mail. Allard, Microsoft's executive hipster charged with keeping tabs on computing trends, told Gates his team wasn't trying to build another e-mail experience. He reasoned that everyone who had a Courier would also have a smartphone for quick e-mail writing and retrieval and a PC for more detailed exchanges. Courier users could get e-mail from the Web, Allard said, according to sources familiar with the meeting."
The article then describes how Gates had "an allergic reaction" to the idea that the Courier would not be able to tap into Microsoft's Exchange franchise. And while linking the death of Courier directly to its inability to handle e-mail (ironic given the product's name), is likely an oversimplification, it is also a bit difficult to swallow that it could have even been an accessory to the murder.
Now, I somewhat sympathize with the idea that the world does not need another way to get e-mail. But to quote the Seth Meyers Weekend Update catchphrase, "Really?" From the leaked videos of Courier, e-mail did not seem like such an outlandish thing to have in the product. Surely the team could have thought of a way to "Courierize" an e-mail experience, perhaps by filtering messages relating to a specific creative project.
If Courier was killed to provide a clear path for Windows 8 tablets, then it was axed for the wrong reason, but ultimately it was probably best that it was not pursued. As engaging as Courier appeared to be, I always wondered about the size of its addressable market. We may yet get a taste of that, though, and at a much lower price than what Courier would have cost, as the Kickstarter-funded engineers behind Taposé bring their app to the iPad.
Tags:
CNet
,
Courier
,
e-mail
,
iPad
,
Jay Greene
,
Metro
,
Tapose
,
Windows 8
April 30, 2010
Each week, The WIRE tracks my contributions to other publications and Web sites.


CNet
No Flash flood in iPad Avoidance, 4/28
In my Volume Up blog, I shared one of the findings from NPD's recent iPad perceptions and attitudes study (PDF), in which the lack of Adobe Flash was not a leading inhibitor  among those who said they were not interested in the iPhone. The day after, Steve Jobs published his Thoughts on Flash essay, reinforcing the reasons why Apple's mobile products will continue to ban both Flash and Flash cross-compilers.
Engadget
Switched On: Revamps in Motion, 4/27
In my weekly Switched On column, I discussed the approach RIM is taking toward evolving the BlackBerry OS, contrasting it to the overhauls that Microsoft and Palm opted for. Given the news this week that HP will be acquiring Palm, the handset company's gamble was not sustainable given its resources, but was a valuable asset to HP. Given RIM's position in the marketplace, an evolutionary approach that keeps it competitive without risking much may be a winning strategy.
Foxnews.com
Gadgets and Games 4/30
I was a guest on Clayton Morris's Gadgets and Games, where we discussed many of the big stories of the week with fellow guests Andy Ihnatko and Seth Porges. These included the war of words between Adobe and Apple, HP's acquisition of Palm, and the release of the Sony Dash, which we had on the program.

NPD Group Blog
Tunnels to the Television, 4/26
My first post at the NPD Group Blog this week was a response to my colleague Paul Gagnon's post on the DisplaySearch blog regarding the future of Hulu and the television. In the post, I discussed the increase NPD has seen in networked content devices that stream music and video around a home network and across the Internet.
E-Reader Distribution Deals Kindle Sales Beyond a Nook, 4/28
This post discussed the implications of the broadening distribution of e-readers with the Nook landing at Best Buy and the Kindle landing at Target. My colleague Steve Baker had an insightful follow-up.
Tags:
Adobe Flash
,
Amazon
,
Barnes & Nobile
,
Best Buy
,
CNet
,
digital media adapters
,
e-readers
,
engadget
,
Foxnews.com
,
Gadgets and Games
,
hulu
,
iPad
,
Kindle
,
Nook
,
NPD Group blog
,
Paul Gagnon
,
RIM
,
Stephen Baker
,
Steve Baker
,
Switched On
,
Target
,
The WIRE
,
Volume Up
March 26, 2010
For those who didn't see the announcement on Twitter, I'm excited to share that I've started a new column for CNet called Volume Up that will discuss trends in NPD information and how they relate to consumer technology. It will be anchored in longer monthly posts but may include shorter pieces for updates and color as well.
My first post on the future of portable navigation devices (such as those from Garmin and TomTom) in light of rising smartphone penetration and the free availability of turn-by-turn directions via Google Maps.
i extend many thanks to my colleagues at NPD and those at CNet who worked to make this happen.
Tags:
blog
,
CNet
,
Volume Up